Human Body (DK Eyewitness Books)

From hair-raising facts about your skin to a close-up view of the trillions of cells that are the body's building blocks; let your child discover the incredible biological marvel that is the human body.
They'll discover more about the human body by downloading 100s of amazing images from the clip-art CD. Then use the giant pull-out wallchart to decorate their room. Great for projects or just for fun, ensure your child learns everything they need to know about the human body.
Reading level: Ages 9-12
Hardcover: 72 pages
Publisher: DK CHILDREN; Har/Com/Ps edition (March 30, 2009)
Language: English
ISBN-10: 075664545X
ISBN-13: 978-0756645458
The Human Body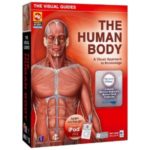 Detailed interactive diagrams let you explore and understand the complex systems and organs that keep the body functioning. Dramatic animations clearly show how intricate body processes work and allow you to explore the amazing automatic functions of the body, including how the digestive system works through an intricate series of organs and glands. Impressive cutaway illustrations provide insights into the anatomy of complex systems, such as the human eye. Full-color photos catalog the various structures and components that make up the human body.
Through these, as well as dramatic x-rays and fascinating electron microscope images, you'll gain a new understanding and appreciation for the human body and have a fabulous time listening, reading, and learning how the human body works. Whether you're a student, teacher, or simply interested in human biology, you're sure to find this software an incredibly fascinating educational experience.
Parental Guidance: Some Human Reproductive material is included.
Platform: Windows 2000 Server / XP / Vista / 2000, Mac OS X
Media: DVD-ROM
ASIN: B000UKBJOQ
Skeleton (DK Eyewitness Books)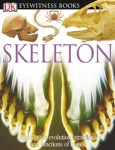 The skeleton is the framework of the body. It supports, moves, and protects, allowing us to walk, run, jump, and swim. Eyewitness Skeleton brings its complexity and ingenuity of design vividly to life. Starting with the human skeleton, it explains how each set of bones functions. It examines in detail the construction of the skull, spine and rib cage, hands, arms, legs, and feet. Comparisons are drawn with the bones of birds, reptiles, amphibians, fish, insects, and mammals. See the 206 different bones in the human body, how your skull differs from a lion's or a chimp's, how teeth grow, and what the inside of a bone looks like. Learn how bones mend themselves when they break, why your hands and feet contain half the bones in your body, how many toes a horse has, and what has happened to the tail you once had. Discover which are the smallest bones in the human body, why some creatures wear their skeletons on the outside, what animal once owned the oldest bones ever found on Earth, and much, much more!
Reading level: Ages 9-12
Hardcover: 72 pages
Publisher: DK CHILDREN (August 2, 2004)
Language: English
ISBN-10: 0756607272
ISBN-13: 978-0756607272
My Amazing Human Body 1.2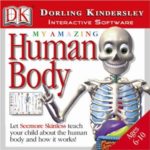 In this fantastic and funny anatomical interactive adventure, children join Seemore Skinless, a mischievous 3D skeleton, in a variety of games and activities aimed at answering commonly asked questions about the body. They'll learn about human anatomy, health, nutrition, and much more through fun activities like "building" a body and "a day in the life" of Seemore. Beautifully presented information, engaging activities and terrific reference resources all combine to create an anatomical adventure children will return to again and again!
ASIN: B000M3H2CO
Software: Windows XP / Vista and MAC OS X 10.2+
Publisher: Global Software Publishing
Language: English
Review: Software is somewhat dated. On latest hardware will not function in full-screen mode.