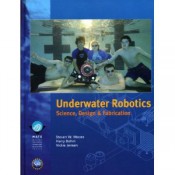 Underwater Robotics: Science, Design & Fabrication [Hardcover]
Steven W. Moore (Author), Harry Bohm (Author), Vickie Jensen (Author)
Up-to-date technical and scientific info about subsea vehicles, pragmatic "how-to" advice, step by step plans for a basic shallow-diving ROV, and real-life stories. Hundreds of illustrations, diagrams, and color photographs featuring hand-built craft as well as commercial ROVs, AUVs and submersibles.
Hardcover: 770 pages
Publisher: Marine Advanced Technology Edu; 1st edition (2010)
Language: English
ISBN-10: 0984173706
ISBN-13: 978-0984173709
Product Dimensions: 11.2 x 8.8 x 2 inches
Build Your Own Underwater Robot and Other Wet Projects [Spiral-Bound]
Harry Bohm (Author)
This amazing book introduces the excitement and the technology of underwater exploration. It presents clear, well-illustrated projects—from various underwater robots (ROVs) and gliders to diving bells and model habitats. You can build them all using inexpensive materials available at local hardware, hobby and electronics stores or via the internet.
Inside you'll find:
Easy-to-follow plans and illustrations for a variety of projects
Plans for waterproofing a camera to create an "eyeball ROV"
Helpful construction tips and safety advice
Instructions for designing your own underwater projects
Info on the history of subsea exploration and modern underwater vehicles
Spiral-bound: 150 pages
Publisher: Westcoast Words; 6th Rep edition (January 1997)
Language: English
ISBN-10: 0968161006
ISBN-13: 978-0968161005
Product Dimensions: 11 x 8.3 x 0.6 inches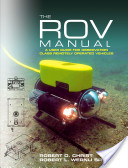 The ROV Manual: A User Guide for Observation Class Remotely Operated Vehicles [Hardcover]
Robert D Christ (Author), Robert L. Wernli Sr (Author)
Many underwater operations that were once carried out by divers can now be carried out more efficiently and with less risk with Remotely Operated Vehicles (ROVs). This is the first ROV 'how-to' manual for those involved with smaller observation class ROVs used for surveying, inspection, observation and research purposes. As ROV technology becomes increasingly efficient and affordable, their use is rapidly spreading throughout a myriad of industries, everything from aquaculture to port and harbour security to underwater crime scene investigation, marine salvage, deep sea archaeology and commercial diving – even deep sea rescue missions are handled by ROVs. Any industry involved with underwater investigation and surveying will inevitably rely on these machines. The ROV Manual is the first user guide to provide complete training and knowledge on ROV operations for engineers, technicians or underwater recreational enthusiasts, whether working inland or offshore.
The first book to focus on observation class ROV underwater deployment and usage in real conditions for industrial, commercial, scientific and recreational tasks
A complete user guide to ROV operation with basic information on the usage of underwater robotics and navigation equipment to obtain mission results quickly and efficiently
Ideal for anyone involved with ROVs whether in research, business or leisure underwater activities, or for heavier offshore projects, complete with self-learning questions and answers
Hardcover: 320 pages
Publisher: Butterworth-Heinemann; 1 edition (August 27, 2007)
Language: English
ISBN-10: 0750681489
ISBN-13: 978-0750681483
Product Dimensions: 9.9 x 7.7 x 0.9 inches